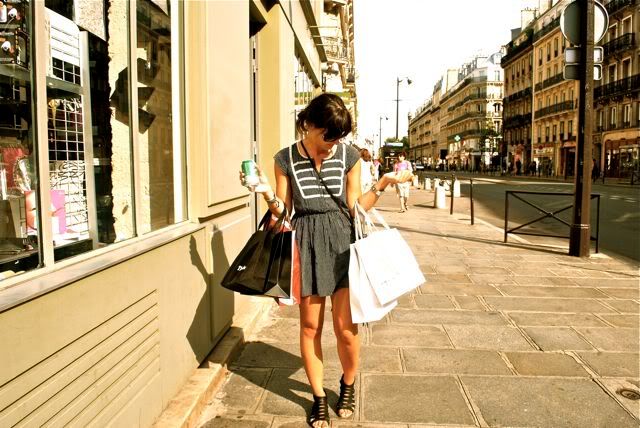 Over the summer, I spent a few days in Paris, France, and I feel as though it was truly the highlight of my life as a suitor to fashion. Though my time there was beyond cut short, I have never been happier. Perhaps the fact that I did not expect it to be as truly unique as it was made me more infatuated than ever. The food, art, and culture were the (exceptionally) large cherries on top. Of course I knew about the ever famous shops on avenue des Champs-Elysees, but not all of us can afford to spend our hard earned retail paycheck at the Louis Vuitton flagship store, and not all of our fathers are willing to do the same with theirs. What I wanted and what I got was a district in Paris where there were up-and-coming designers that no one would be wearing at home. Le Marais was the most charming maze where every route lead to a new boutique, and the deeper we went the better it became. Though the stores were certainly not inexpensive, they weren't in the price range of a Chanel quilted 2.55 handbag, either. There were quite a few stores that I still think about daily. First and foremost, The Kooples, where Alexander Wang and Rag and Bone had a love child. The store is divided into two sides, men on the left and women on the right. Everything is hung neat as a pin, with an enclosed accessories table in the dead center. The best skirt I've ever loved came from there, complete with the most elegant yet modernistic waist belt. I insisted on adding a sheer silk black blouse to the look. Again, it was classic but different: with fitted sleeves that halt just before the elbow, the scoop neck has a hint of a frayed accent along the edges:
Next, Les Petites, where I had even more decisions to make. I ended up with a unique thin sweater that is long enough to wear with tights and short enough to wear with jeans. Half-poncho half-fitted, it is one of my favorite throw on pieces that I can't compare with anything else. I also discovered the lightest gray of handbags, again emulating Alexander Wang with a two thick silver chains on the front flap.
My very favorite store in the entire district, if I had to choose, would be IRO. I gravitated toward it, to say the least. When I first saw the window, I jumped from one store to the other so fast that my dad almost had three heart attacks trying to locate me. There was not one item in the store that I didn't want to bring back with me. Not to mention the girls who worked there were the two most helpful, innovative and fashionable women I've ever worked with. They knew how to put pieces together and offered constant advice and ideas. I had to weed out everything I had brought into the fitting room and land on three items: a perfectly distressed and fitted sweatshirt dress, a gauzey black and white checked blouse with the most intricate buttons, and a peppered sweater that is tastefully knotted at the center: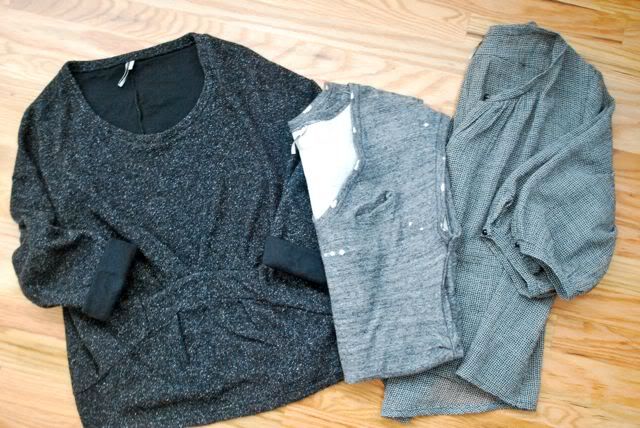 All stores have websites, if you are willing to foot the bill for international shipping.
Dress pictured at top: Free People Dotted Rayon Dress